Start a Career as a Saving Grace for Electricians, Engineers, and Industrial Companies.
At Hannan Supply, you might spend every day helping clients find industrial supply products to keep their operations running smoothly. Or you might work behind the scenes to keep Hannan Supply a positive, successful work environment so we can better serve customers.
No matter your role, you'll enjoy fulfilling work in a family-like atmosphere. You'll also receive benefits such as: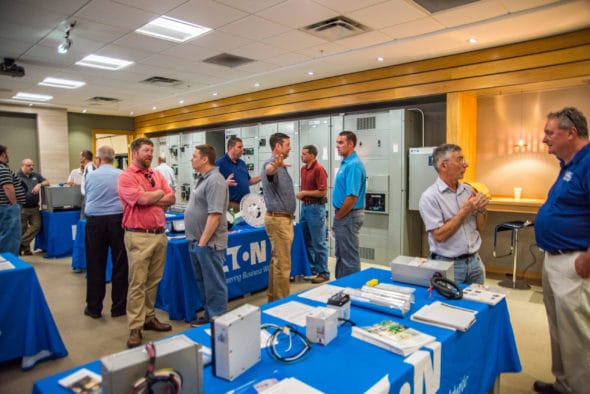 If you're ready to grow, learn, and serve, then we might have a place for you.
Take a look at our open positions and apply today.
"The #1 reason I enjoy my job is the relationships. It's a joy to come to work every day and engage with my coworkers. It's great to talk to our vendors on a regular basis, as well. But most importantly, the customers. I take a lot of pride and satisfaction in the fact that I am helping add value to my customer's projects and jobs. It gives me a great sense of fulfillment, knowing that I have met their needs, and I am honored that they reach out to me."
–
Drew Hasty
Inside Sales, Calvert City
"I have never worked in an environment, or for a company, that treated its employees like they were a part of a family to the level that the management here at Hannan Supply does. Through losses of family members, illnesses, and just about any other personal emergency, the management team, as well as the rest of the employees, have a tendency to pull together and show the most loving support for one another. THAT is "Why Hannan" when I'm asked where I intend to spend the rest of my working years."
–
Nikita Wheeler
IT Operations, Paducah
"Hannan is a great place to work because you are treated like a person and not a number, like some of the big companies. You have the freedom to make a lot of your own decisions at your job, which makes you feel important."
–
Steve Hawkins
Inside Sales, Paducah
"Hannan is a wonderful workplace. It is like my second home. We are family, and we all work great together. And we care about one another. … Everyone helping each other in our work environment and in our personal lives. We treat our customers fairly, and so many of our customers are like family and friends also."
–
Cheryl Clary
Inside Sales, Owensboro
"What I love about Hannan is the environment. We truly are a family, and regardless of which location you are in, you are made to feel the same at each one of them. We all work together as a team and know that we can rely on each other when necessary. Our customers are great as well. We have a wonderful working relationship with the contractors who come in on a day-to-day basis. It's just a great place to work and be part of!"
–
Beth Wolfe
Marketing Assistant, Calvert City
If you're ready to grow, learn, and serve, then we might have a place for you.
Warehouse Employee
1565 NORTH 8th STREET
PADUCAH, KY
Hannan Supply is looking for a warehouse employee to join our locally owned business team.
We have a static Monday through Friday 8-hour schedule with paid holidays off once you become a full-time employee.  Opportunities for overtime are present from time to time.
As you will be asked to make deliveries from time to time, you will be the face of Hannan Supply to our customers so an outgoing personality is a plus
Prerequisites
– High School Diploma or GED preferred
– Valid Driver License
– Experience with forklift preferred
– Experience with RF scanner preferred
– Team player with an outgoing personality
Job Description
– Picking material from shelves using an RF scanner
– Packing material & getting it checked for delivery
– Putting material up in its proper space on shelves
– Cutting wire when needed
– Loading trucks with goods for delivery
– Delivering goods to customers